Lemi Orhan Ergin
agile software craftsman
Latest News: We created our own company: craftbase #crafter
Lemi Orhan Ergin
agile software craftsman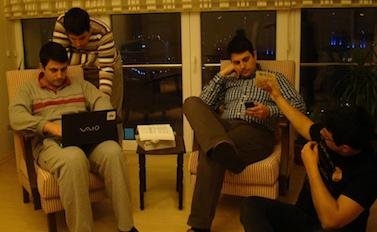 Developer, Architect, Coach, Trainer, Leader, Speaker
Lemi Orhan Ergin is the co-founder and Agile Software Craftsman at craftbase.
He took Bs. and Ms. degrees from Marmara University Computer Engineering Department in 2002 and 2005 respectively. He has been actively developing software since 2001. He has worked as software architect, software craftsman, technical leader, team leader, technical coordinator, Scrum Master and Agile coach in dozens of software projects at BYM, GittiGidiyor / eBay and Sony. When he was a managing partner in ACM, he had provided consulting services to dozens of companies. He had led the establishment of agile software cultures, continuity and sustainability in software teams. At iyzico, he was leading cultural transformation of iyzico engineering on top of Agile & Lean mindset and Software Craftsmanship movement.
He has been delivering trainings and seminars on Agile / Scrum, Kanban, Management 3.0, Git, ALM Processes, TDD, Clean Code, Agile Engineering Practices and Software Craftsmanship to hundreds of professionals.
He is addicted to learn new technologies, develop new ideas, construct well-defined structures and teach them to others. He has already attended tens of seminars and conferences as speaker. He is sharing the slides of his talks via SpeakerDeck. His presentations have been already viewed more than 1 million times in internet overall.
He is a big fan of human-centric development disciplines, like agile development. He has a lot of deep experience in agile methodologies (like Scrum, eXtreme Programming and Kanban), agile transformation, software craftsmanship, building agile ALM processes, agile software engineering practices and building a sustainable agile development culture in organizations. He has CSM, PSM1, PSD1, Scrum Master and Kanban Practitioner certificates. He has been working in Scrum teams as Scrum Master, Scrum Team Member and Agile Coach since 2008. He loves to share his knowledge with others. He prepares Scrum trainings and knowledge sharing sessions and enjoy coaching teams in both technical and non-technical aspects.
Application life-cycle management is also his expertise. From build management to release management, from requirement analysis to monitoring, he has worked in all areas of software development. He gives special importance to test driven development, continuous integration, clean code principles and software craftsmanship. He has been doing code reviews in daily basis and coaching juniors since 2005.
He was an active member of Agile Turkey community for 5 years and organization & commuinty lead between 2015 and 2017. Between that period, he involved intensely in the organization of Agile Turkey Summit 2015 and 2016 and CraftSummit 2015 as the product owner role. He is also the founder of Software Craftsmanship Turkey community, i.e. the only Turkish community about Software Craftsmanship. He already organized 200+ free meetups as private and public. He also has been facilitating code retreats since 2013 including the Global Day of Coderetreat.
Even though he shares his knowledge in English in many areas, he believes in the power of learning in native language. Therefore he is sharing his experience about agile development in Turkish via agilistanbul.com with Turkish audience. He was in the team for translating Agile Manifesto into Turkish. He is the official Turkish translator for Software Craftsmanship Manifesto, SOA Manifesto and Disciplined Agile Manifesto.
As a summary:
Lemi Orhan Ergin is a Software craftsman, passionate developer, technical architect, Agile culture cultivator, Agile coach, Scrum / Kanban practitioner and trainer, Management 3.0 trainer, experienced mentor, engineering booster, Git trainer and lover, the TDD guy, clean coder, infected with the technical side of Agile, presentation and visualization freak, non-stop learner, full time apprentice of my masters, the community guy.
All he wants is to work with you to build a better development culture with both process and technical sides and to see happy faces at the end.
July, 2018
Lemi Orhan Ergin
agile software craftsman
I've been leading and coaching agile teams for years. My main aim is to build robust, stable, flexible, extensible, high quality software with teams having highly-competent, motivated people in a fast and efficient way. For detailed information, please visit my LinkedIn profile.
Community

Software Craftsmanship Turkey

Founder of Turkish Software Craftsmanship Community, 2014-Present

Our aim to improve software developers in Turkey. We aim to organize events and meetups to achieve this important goal. You can visit meetup.scturkey.org for more details.

Agile Turkey

Community Leader & Product Owner, 2015-2017

We organized more than 50 public and free meetups (aka Agile Buluşmalar) in two years. Also I was the product owner and organization head of Agile Turkey Summit 2015 and 2016 and CraftSummit 2015 conferences.

Employment

Cofounder / Agile Software Craftsman

Craftbase (Apr 2018 - Present)

Agile Practice Lead / Agile Software Craftsman

iyzico (Jan 2017 - Apr 2018)

Managing Partner / Master Software Craftsman / Agile Coach & Trainer

ACM (Jan 2014 - Dec 2016)

Technical Architect / Scrum Master

Sony (May 2014 - Dec 2014)

Solution Architect

Sony (Dec 2013 - May 2014)

Principal Software Engineer, Technical Lead

Sony (Sep 2012 - Dec 2014)

Agile Practice Lead

Sony (Sep 2012 - Dec 2014)

MTS1 Software Engineer

GittiGidiyor / eBay (Mar 2012 - Sep 2012)

Expert Software Engineer

Sony (Apr 2010 - Mar 2012)

Technical Coordinator / Scrum Master

Sony (May 2008 - Apr 2010)

Senior Software Engineer

Sony (Aug 2007 - May 2008)

Software Officer

Turkish Air Forces (Aug 2006 - Jul 2007)

Lead Software Engineer

Sony (Oct 2004 - May 2006)

Software Engineer

BYM (Aug 2003 - Sep 2004)

Laboratory Assistant

Marmara University (Jun 2002 - Jan 2003)

Software Engineer

Tüsside (Jun 2001 - Sep 2001)

Education

Computer Science Engineering, Ms.

Marmara University (2003 - 2005)

Computer Science Engineering, Bs.

Marmara University (1997 - 2002)

Certificates

Certified Scrum Master (by Scrum Alliance)

I am trained by James Coplien on 2009. Visit my profile from Scrum Alliance website

PSM 1 & PSD 1 (by Scrum.org)

I got the certificate on 2013. Visit my profile from Scrum.org website

Certified Kanban Practitioner (by Lean Kanban University)

I attended the accredited training about "Successful Evolutionary Change with Kanban" from Altuğ Altıntaş. Visit the details of the training and the certificate from Lean Kanban University website

Agile Experience

Managed teams as Technical Coordinator & Team Manager
Worked in Scrum Teams as Scrum Master and Team Member
Coached Extreme Programming principles
Coached teams about Agile Dev. and Software Craftsmanship
Coached teams about Scrum
Coached teams about Kanban/Lean Development
Built full-stack Agile ALM
Worked in Agile Transformation of whole IT department
Used TDD, BDD, ATDD
Used Continuous Integration/Delivery/Deployment
Trained development teams about Clean Code Principles
Trained development teams about Git in all levels
Actively worked in Agile Turkey & SCTurkey communities

Programming Skills

Open Source, Software Design & Architecture
Java, Groovy, Bash, PHP, C, JavaScript
Spring Framework, Ratpack, Grails, Restful Services
Postgres, MySql, Oracle
NoSQL solutions as MongoDB, Voldemort, CouchBase
EHCache, Hazelcast, Lucene, Compass
Mule ESB, MQs, Endeca, Heroku
Git, Linux and MacOS but never Windows!
Lemi Orhan Ergin
agile software craftsman
Videos
20+ videos of some of my talks are published at Youtube already. You can also access them as below.
Presentations
I upload the slides of my talks to SlideShare. Total number of views of my presentations exceeded 1 million over SlideShare and BusinessInsider. That's huge! If interested, please check SpeakerDeck for details.
Podcasts
My passion is sharing. I started to share my experiences and knowledvia via podcasts. I created my own podcast "Lemi'nin Not Defteri / Lemi's Notebook" and published. If interested, please check Soundcloud or directly start adding RSS feed to your podcast client.
Lemi Orhan Ergin
agile software craftsman
Contact Info
I am a Turkish guy, originally from my lovely city Izmir, Turkey. I am currently earning my life in Istanbul where living is like fighting with the traffic and chaos everyday.
I have a lovely wife, who is an assistant professor at Marmara University Computer Engineering Department and 2 little boys.
Address: Istanbul, Turkey
Email: lemiorhan@scturkey.org

Get In Touch!
Ask me questions, I love sharing my knowledge and experience. You may understand how eager I am for collaboration from the event list that I attended as a speaker. If you want to access me, please send me an email, or send a message via LinkedIn or Twitter. I will reply you as soon as possible.
foxyform
Lemi Orhan Ergin
agile software craftsman
Conferences
I love to speak at conferences. I started to visit Europe and Middle East for being in collaboration with regional communities and being involved in conferences.
2018

Women Tech Makers Istanbul

2018

Kodla.co

2018

PhpKonf

2018

DevNot Summit Istanbul

2018

Java Day Istanbul

2018

iTAKE Conference Romania

2017

Dynamics Congress

2017

Java Day Istanbul

2017

DevNot Summit

2017

Gebze Geek Day

2016

GDG DevFest Izmir

2016

GDG DevFest Istanbul

2016

Karabuk Uni. Programming Days

2016

Agile Middle East Dubai

2016

Boğaziçi Uni Tech Summit

2016

Bosnia Agile Day (Keynote)

2015

Voxxed Day Istanbul

2015

Craftsummit

2015

Bilkent Mobile Days

2015

PHPKonf (Keynote)

2015

Boğaziçi Uni. Exit Days

2015

Turk Telekom Agile Summit

2015

Agile Tour Kaunas

2014

Avea Agile Summit

2014

Lean Kanban Istanbul

2014

GDG DevFest Istanbul

2014

Özgür Web Teknolojileri Günü

2014

Php-Ist

2013

GDG DevFest Istanbul

2013

Dynamics Congress

2013

ETohum Developers Day

2013

Int. Workshop on Agile Approaches
Community Meetups
I am a community guy. I participate the events of other communities as well. Here is the list of communities that I spoke in one of their meetups:
GDG Istanbul, IPYD, Agile Turkey, Software Craftsmanship Turkey, Istanbul Coders, Php Istanbul, Gelecek Hane, Scrum Turkey, Agile Coaching Serbia, Code.YapıKredi, Crossover Meetup
Company Seminars
I share my knowledge with companies as well. Here is the list of companies that I already spoke at:
Yapı Kredi Bank, Türkiye Finans, Akbank, Vodafone, KeyFruit, Şekerbank, GittiGidiyor, Sony, Softtech, Turkcell, Mynet, TravelPlanet24, Money Market, Turk Telekom, Garanti Bankası, Kariyer.net, Kliksa
University Seminars
I give 4-5 seminars each year at universities. Here is the list of universities I visited for a seminar:
Marmara, Yeditepe, Boğaziçi, Bilkent, Karabük, Kültür, Gebze, Beykent
Code Retreats
Practicing is the key for mastering software developement. Code retreats are best event to boost practice. Here is the list of code retreat events I facilitated so far:
(Global Day of Coderetreat) GDCR 2014, GDCR 2015, GDCR 2016, Mynet, General Electric Aviation, Sony, Turk Telekom